Chillcast Karmacoda Feature
This is the most deluxe Chillcast feature yet! Enjoy a full hour of music from all four Karmacoda albums as I chat with band vocalists, Brett Crockett and Heather Pierce, about their history, creative process, career highlights, and much more. Plus Karmacoda are holding an extra special contest — 10 Chillcast listeners will win! San Fran fans: be sure to check out Karmacoda's Illuminate Release Party gig on April 7th at 330 Ritch.
[audio:http://media.podshow.com/media/142/episodes/55888/thechillcast-55888-04-02-2007_pshow_63856.mp3]
Download the Chillcast Karmacoda Feature (mp3)
Playlist: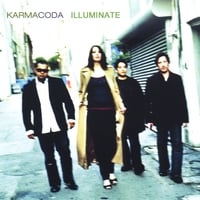 Karmacoda Illuminate CD giveaway contest!
Please visit the official contest page at karmacoda.com to enter for a chance to win your choice of a copy of their latest album or ladies t-shirt!
More Karmacoda on The Chillcast:
Additional Links:
Subscribe: